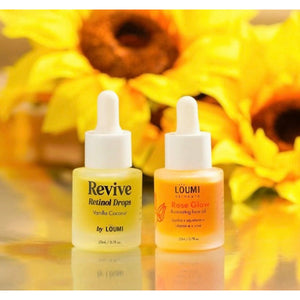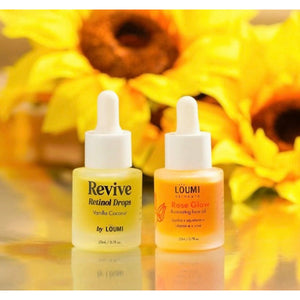 Daily Dew-O
The Skincare Duo: Natural Retinol Serum & Nourishing Face Oil
Are you ready to dew you with this double oil glow-up?
Start your day with our Rose Glow Illuminating Oil. This illuminating botanical face oil contains earthy extracts that help repair damaged skin while also protecting you from future damage.
End your day with our queen bee product—Revive Retinol Drops (PM use)---a natural retinol night serum formulated to increase collagen production, promote cell turnover, and nourish your thirsty skin.
The Rose Glow Face Oil is Formulated With:
Jojoba
Rosehip
Jasmine
Seabuckthorn
The Revive Retinol Drops are Formulated With:
Hyaluronic Acid
Grape Seed
Avocado Oil
Benefits
With the combined benefits of nature's seven greatest botanical extracts, this iconic dew-o is a jack of all trades. Together, our morning glow facial oil and natural retinol serum soothe, hydrate, nourish, repair, and brighten. Add them to your daily skincare regimen and revive your radiance!
Promote cellular turnover, clarify pores, and refine skin texture for a smoother and revitalized appearance.
Protect from environmental damage and add minerals and powerful antioxidants to the skin to reduce fine lines & wrinkles.
Boost collagen, repair the skin barrier, support moisture retention, and offer intense hydration to combat dryness and irritation, making your skin plump and bouncy.
Fade hyperpigmentation and dark spots, reduce redness, and offer a natural glow for skin that looks vibrant and healthy.
Non-GMO and vegan. Free of parabens, sulfates, phthalates, and gluten. Formulated for sensitive skin.
How to Use
Simplify your skincare routine by addressing your major skin concerns at once with our botanical skincare duo containing a natural retinol serum and nourishing face oil. These lightweight, non-greasy formulas penetrate deep into your skin to reveal the radiance within. Unlock it now!
Rose Glow Face Oil
Step 1
Dispense 2-5 drops onto your face and neck after cleansing and applying the retinol and moisturizer.
Step 2
Gently massage the morning glow facial oil into your skin using tapping and upward circular motions.
Step 3
Follow up with sunscreen if using in the daytime.
Revive Retinol Drops
Step 1
Using the applicator, apply 2-3 drops onto the face and neck region after cleansing.
Step 2
Avoid the eye area and the corners of the mouth and gently massage the natural retinol serum into your skin until it's fully absorbed.
Step 3
Follow up with a deep hydrating moisturizer and face oil.
Ingredients
Rose Glow Face Oil
Jojoba: Rich in vitamin E and B-complexes that repair damaged skin and even out skin tone.
Rosehip: Contains beta-carotene and vitamin C that unclog pores and minimize uneven texture. Supports moisture retention and helps reduce fine lines and wrinkles.
Jasmine: Combats acne-causing bacteria and pigmentation from the sun and offers a soothing aromatherapy experience.
Seabuckthorn: Packed with nutrients, antioxidants, and fatty acids that protect from UV rays, fight free radicals, and support skin regeneration.
Revive Retinol Drops
Hyaluronic Acid: Moisturizes the skin and preserves hydration for a noticeably full and supple appearance.
Grapefruit Seed Oil: Abundant in antioxidants that illuminate, firm, and shield against the harmful UV rays that are responsible for premature aging.
Avocado Oil: Rich in healthy fatty acids and vitamins that nurture and rejuvenate the skin's protective barrier for a silky smooth feel.
Full Ingredient List for Rose Glow Face Oil: Simmondsia chinensis (jojoba) oil*, squalane, rosa canina (rosehip) oil, jasminum officinale (jasmine) oil, olea europea (olive) fruit oil, hippophae rhamnoides (seabuckthorn) oil, dl-alpha tocopherol.
Full Ingredient List for the Revive Retinol Drops: Hyrdoxypinacolone retinol, Persea gratissima (avocado) oil, Citrus paradisi (grapefruit) seed oil, Camellia oleifera (camellia) oil, Passiflora edulis (passionfruit) seed oil, Prunus avium (cherry) kernel oil, Cocos nucifera (coconut) fruit extract, Rubus fructicosus (blackberry) seed oil, Vanilla planifolia fruit extract, Dimethyl isosorbide (and) hydroxypinacolone retinoate, Opuntia fiscus-indica (prickly pear) seed oil, Dl-alpha tocopherol.