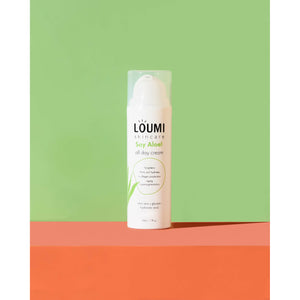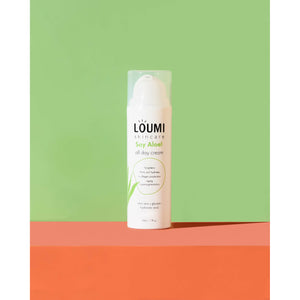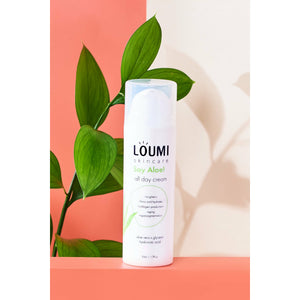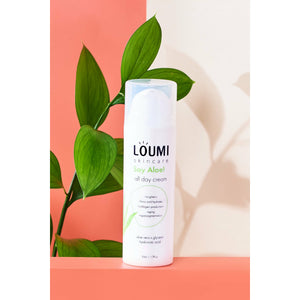 Say Aloe All-Day Face Cream
Aloe Vera Face Cream
Skin dry like the Sahara desert? Here's your oasis! This nutrient and vitamin-infused all-natural face cream has been formulated to quench your skin's thirst and leave it baby-soft. It's packed with the goodness of aloe vera, hyaluronic acid, and algae (the good kind) to deliver intense hydration with every application. It's time to show off your bouncy, illuminated skin!
Formulated With:
Benefits:
Our key plant-based skincare solution, this lightweight, cruelty-free algae face cream contains potent plant extracts to help you achieve a bright, balanced, radiant appearance. Harness the power of nature and put on a confident face every day!
Absorbs deep into the skin for intense hydration, nourishment, and moisturization, restoring its plumpness and bounce.
Restorative for the skin after being in the sun and reduces the appearance of fine lines, wrinkles, and other signs of premature aging.
Brightens and smoothes out skin texture for enviably even-toned skin.
How to Use:
The Say Aloe All Day Face Cream is suitable for both AM and PM use, so all the good-skin girlies apply this vegan aloe vera face cream twice a day to stay unbothered, moisturized, happy, and in their lane!
Step 1
Pump out a small amount onto your fingers and dot it all over your cleansed face and neck for even application.
Step 2
Gently massage the all-natural face cream into your skin in an upward stroking motion.
Step 3
Apply twice a day and follow up with sunscreen for best results.
Ingredients
Aloe Vera: Grants this face cream antioxidants that promote healing and a brighter complexion. Replenishes moisture and soothes irritation, redness, and sunburn.
Hyaluronic Acid: Intensely hydrates and holds onto 1000x its weight in moisture, reducing fine lines and wrinkles, and making the skin plump, firm, and youthful.
Algae Extract: Draws toxins out of the skin. Packed with vitamins & minerals that stimulate collagen production, nourish, and protect from environmental damage.
Water, dimethicone, isododecane, (cetyl alcohol, sodium polyacrylate, polysorbate 80, glyceryl stearate, dimethicone/vinyldimethicone/silsesqui oxane crosspolymer), aloe barbadensis, glycerin, (laminara digitata (algae) extract, water, sodium hyaluronate, phenoxyethanol, sodium benzoate, potassium sorbate, disodium EDTA), (ceramide NP & ceramide AP & ceramide EOP & phytosphingosine cholesterol & sodium lauroyl lactylate & carbomer, xanthan gum, urea, sodium L-Pyroglutamate), phenoxyethanol (and) sorbic acid (and) caprylyl.