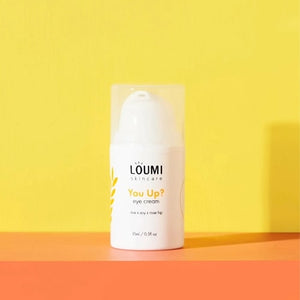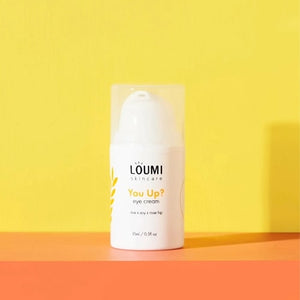 You Up? Eye Cream
All-Natural Eye Cream
Late night last night? Us too. Say goodbye to those dark eye circles with this cruelty-free, brightening eye cream. Infused with the benefits of rice, soy, and rosehip, this hydrating under-eye cream aids in collagen production and revitalizes your sensitive under-eye skin, leaving you ready to take on the day looking fresh AF.
Formulated With:
Benefits:
Made with skin-loving botanical extracts such as rosehip, olive oil, and rice bran protein, this antioxidant eye cream will eliminate puffiness and wrinkling and leave you with a cooling, restorative feeling. Go crush it today, you bright-eyed beauty!
Humectant ingredients offer intense hydration to the delicate skin around the eyes for a plump, moisturized appearance.
Diminishes dark circles and discoloration around the eyes, leaving you with a brighter and even-toned under-eye area.
Boosts collagen production to improve the skin's elasticity and firmness, reducing sagging and puffiness for a refreshed look.


How to Use:
The You Up? all-natural eye cream is suitable for AM & PM use and helps promote moisturized, firm under-eye skin so you can look at the world with new eyes!
Step 1
After cleansing, apply a pea-sized amount of the antioxidant eye cream to the under-eye region.
Step 2
Gently massage the cream under the eye area in an upward motion, avoiding the lids and waterline.
Step 3
Dab away any excess product with your fingertips and follow up with a light moisturizer.
Ingredients
Rice: Rich in antioxidants and anti-inflammatory properties to soothe irritated skin, reduce puffiness, combat signs of aging, and brighten uneven skin tone.
Soy: Contains amino acids and proteins that lend this hydrating brightening eye cream the power to nourish and repair the skin for youthful, supple-looking eyes.
Rosehip: Protects against free radicals and environmental stressors, regenerates and nourishes the skin with essential fatty acids & vitamins for lasting radiance.
Aqua/water, caprylic / capric triglyceride, (hydrolyzed rice bran proteins, glycine soya protein, oxidoreductases, glycerin), sodium acrylate / sodium acryloyldimethyl taurate copolymer & isohexadecane & polysorbate 80, olea europae (olive) fruit oil, sorbitol, rosa canina (rosehip) seed oil, benzylalcohol, dehydroacetic acid.