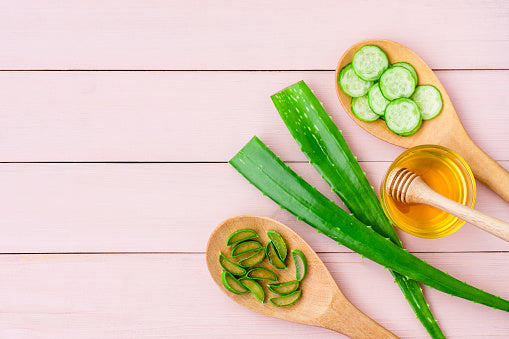 Can Aloe Vera And Vitamin C Protect Your Skin From Uv Damage?
 What would you say is the most damaging environmental factor when it comes to your skin? If you guessed the sun, you're right.
For this reason, the lighter your complexion, the more concerned you need to be about averting sun damage. It's vital for all of us to take care, even those with more pigment in our skin, but those with the lightest complexions must be very cognizant to avoid over-exposure to the sun.
Why are lighter skin tones more vulnerable? They aren't able to fortify against the sun's punishing rays in the same way darker complexions can.
Does Aloe Vera Help?

Aloe Vera is well-known as a cooling and healing agent when it comes to burns. Aloe can also heal your skin after hours in the sun. Its anti-inflammatory chemical compounds reduce swelling, promote healing, and alleviate pain when applied to your skin. Loumi Skincare uses Aloe Vera as one of the ingredients in our products.
Limiting Sun Damage

More than just staying out of the sun, or wearing hats and cover-ups, if you have a light complexion, including a healthy amount of vitamin C in your diet, will also help limit the damage that comes from exposure to the sun.
Research has shown that vitamin C often helps protect skin from damaging UVA and UVB rays. However, vitamin C would not be considered a sunscreen because it doesn't protect you by limiting the amount of ultraviolet rays that reach your skin.
If vitamin C doesn't limit harmful UVA or UVB rays how does it work to reduce sun damage? Vitamin C mitigates the damage free radicals will do to your skin by working as an antioxidant.
Sun exposure affects Vitamin C in your skin by depleting it. The extent of the damage depends on the intensity and length of exposure, and this is why limited exposure to the sun is important.
Research has shown that when skin cells are exposed to UV light and then vitamin C is added, it significantly reduces the amount of DNA damage and lipid peroxidation. It also limits the release of pro-inflammatory cytokines and helps protect against gene-related cell death. So basically, when you introduce vitamin C into your body, most of the skin damage accelerated by the sun is reduced.
Completely avoiding the sun isn't really possible, but reducing sun damage is doable.
Loumi's products are 100% natural, vegan, paraben-free, sulfate-free, cruelty-free, gluten-free, and phthalate-free. Carefully sourced and mindfully packaged, we hold our ingredients and products to the highest standards with you and the planet in mind.
Our all-natural, vegan formula combines botanicals like jojoba, rosehip, jasmine, and Aloe Vera to deeply nourish and illuminate your skin.
https://loumiskincare.com/