Love all things skincare? Then, welcome to our blog where we share our natural skincare tips, tried-and-tested routines, and the latest updates on vegan holy grail skincare products! Whether your skin's dry like a desert, overly sensitive, oily and acne-prone, or a combination of these, you'll find this space to be a gem of a resource for discovering all-natural plant-based skincare products and routines that will work for you even on the most hectic of days. You want that glow even when you're on the go, and our skincare experts are here to help you achieve that. So, give your skin a pep-talk and start reading!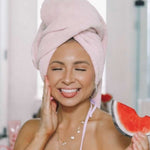 If you look in the mirror every morning and see dark circles and under-eye bags — you are not alone. Many of us lead busy lives that pull us in a million different directions, resulting in lack of sleep and insufficient rest. While our hectic schedules may get the best of us, it's important to incorporate self-care activities to revitalize your wellness.
The Best Skin Science at Your Fingertips
We know how tricky it is to nail skincare. It often takes months of trial and error to find a routine that will target your skin concerns without creating new ones! Our skincare blog is equally for novices venturing into the beautiful world of lotions and serums and even more so for seasoned skincare enthusiasts who are always eager to maximize their results and learn new tips to go one step further in their skincare journey. Subscribe to our newsletter below to be the first one to be alerted whenever we publish new content and uncover the secrets of healthy, radiant skin!
Safe, Effective, and Ethical Skincare
At LOUMI Skincare, we're making a splash in the industry with a range of botanical skincare products that work for skins of every type. It's your most cherished part, and we want you to feel comfortable and confident in it when you use our lineup or follow the natural skincare tips on our blog. We're always committed to bringing you clean, cruelty-free skincare that's free of all harmful substances including sulfates, phthalates, and parabens. Explore our range today to discover the power of botanicals for rejuvenated skin that glows as brightly as your inner self!